Hearing Care Services
Audiology Associates of Missouri is the only locally-owned audiology clinic in the region, dedicated to serving those with hearing difficulties. Since 1997, we are your first choice when it comes to your hearing. Let Dr. Hickey help you enhance your hearing and maintain your independence. Audiology Associates of Missouri wants you to be a part of the conversation. Learn more about these services we provide to the Heartland.
Hearing Tests
Hearing Testing and Evaluations
Choosing the right hearing aid starts with a clear understanding of your unique hearing loss needs. Our advanced testing procedures accurately identify whether or not you have hearing loss and measure the type and severity.
Diagnostic hearing evaluations are comprehensive exams to determine how well you hear. These hearing tests not only identify hearing loss but also help determine treatments, which may include hearing aids. Some types of hearing loss are treated medically or surgically.
More on Hearing Tests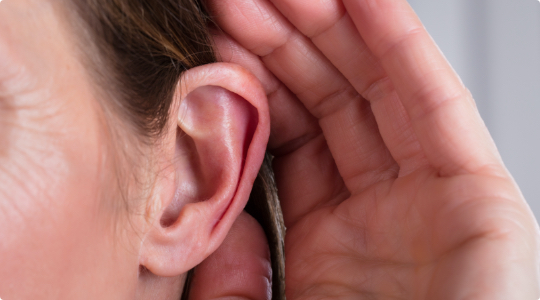 Online Hearing Test
Think You Might Have Hearing Loss?
Take our free, 5-minute online test to get a better understanding of your hearing health. It can determine if a professional screening is right for you.
Our Process
Finding the Perfect Match.
Hearing loss looks different for everyone, and as a result, there are a number of hearing aid varieties on the market. Through careful evaluations and custom fittings, we'll help you find the best device for your hearing loss needs.
Hearing Aid Services
We Service Your Devices
From hearing aid screening, selection and fittings, to ongoing maintenance and repairs – we offer a wide range of services to keep your hearing aids performing their best.
A hearing aid evaluation allows you to learn about different styles and types of hearing aids. Our professionals will discuss the benefits of hearing aids and how certain types may work best with your hearing loss. Often, you can try on different hearing aids in the office. Learn more about hearing aid evaluations here.
More on Hearing Aid Evaluation
The audiologists at Audiology Associates of Missouri want to ensure that your hearing aids fit right and feel good. At the hearing aid fitting, your devices are programmed and tested to ensure a perfect fit.
More on Hearing Aid Fitting
We're here to help you keep your hearing aids in working order. Our expert team offers maintenance and repair services, with personalized care over the life of your hearing aids. If we cannot make repairs in-office, we'll send your devices to the manufacturer for repair.
More on Hearing Aid Repair