Hearing Products
When you visit the audiologists at Audiology Associates of Missouri, we will here help you choose the right hearing aids based upon your test results, lifestyle and budget. We offer a wide variety of devices from two of the top manufacturers of hearing aids, Phonak and Signia. Our expert staff is committed to your ongoing success, providing personalized care for the life of your new hearing aids. We offer continued support and maintenance, guaranteed.
Hearing Technology
Modern Solutions For All Types of Hearing Loss
Thanks to advances in technology, hearing products are designed to be more compatible with our lives than ever before. In addition to hearing aids, there are a number of products that make living and communicating with hearing loss easier to manage, so you never miss a beat.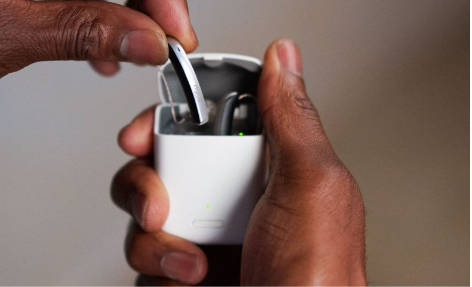 There's no need to worry about where to find batteries for your hearing aids. We have a large selection of hearing aid batteries with the right size to fit your devices.
More on Hearing Aid Batteries
There's a lot that goes into choosing the right hearing aids. It's an important decision, not only because of the cost involved, but also due to your hearing needs, physical abilities and cosmetic preferences. Hearing aids come in many shapes and styles from those that fit in the outer ear and/or ear canal to behind-the-ear hearing aids to those that sit inside your ear canal. At Audiology Associates of Missouri, we offer a wide selection of hearing aid styles.
More on Hearing Aid Styles
Hearing Product Guide
Curious About Hearing Technology, but Not Sure Where to Start?
With so many styles and options, it can be difficult to know which products will suit your needs. Our Consumer Guide to Hearing Aids provides an in-depth breakdown of the different types of hearing devices, as well as the technology available for all types of hearing loss.
Hearing Aid Manufacturers
Hearing Products Created by the Best in the Industry
When it comes to hearing loss, you need a device you can rely on to perform its best. That's why we carry products from manufacturers with a proven track record of exceptional quality. No matter your budget, lifestyle or type of hearing loss, we have a product to meet your needs.
Hearing Protection
Make Protection a Priority
Protecting your ears from noise damage is essential to healthy hearing. We carry a wide variety of options equipped with the latest features and customizations, so you can find the best fit for your lifestyle.
Those who work in noisy and loud environments know the importance of hearing protection. We can fit you with custom earmolds or earplugs designed specifically for your work. Certain hobbies also require hearing protection. See us at Audiology Associates of Missouri for a large choice of earmolds and earplugs.
More on Hearing Protection